Back to all posts
Posted on
Lesson comes to life for PBHS students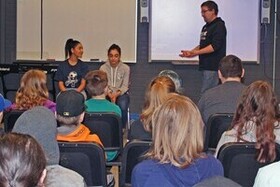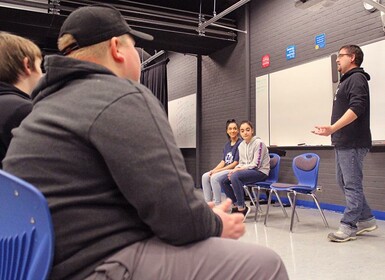 PICTURE BUTTE – Immigration and refugees have dominated the news cycle for some time now. Those issues, however, hit a little closer to home for a group of Picture Butte High School students.
With those topics tied into the social studies curriculum, some 70 students in Grades 7 through 9 gained greater insight into immigration and refugees thanks to three presenters who have experienced them first hand.
Joining Michael Ward, of Lethbridge Family Services – Immigrant Services, were Hiba and Jalila, teenaged refugees who fled the Syrian civil war and immigrated to Canada with their families just a few years ago.
"I was just hoping to learn more about the (immigration) process and how it impacts people," said Grade 9 PBHS student Cassandra Mack of what she had hoped to take away from the presentation.
Teacher Mark Ogle was hoping the students might also get a lesson in empathy. It's important they realize that outside the scope of Picture Butte there are many people different than themselves, and that doesn't mean they should be afraid of them.
"Different is a good thing. We should be accepting and we should be wanting to bring people in, and take care of them, and get to know them, because diversity is a great thing," he said.
Ward described for students his role as a settlement practitioner with Youth Settlement Services, a position which sees him help young immigrants better integrate into Canada. He also explained most immigrant families don't pick Lethbridge as their destination. It is chosen for them in that the community is a lot like Goldilocks and the bed she chose to nap in – not too big, not too small, and just right.
Hiba and Jalila, both Grade 7 students who attend school in Lethbridge, then fielded questions from their PBHS counterparts about why they left Syria, the process which led them to Canada, and more.
Kenny MacKenzie said he found the presentation much more engaging than reading about the issues in a textbook or watching a video clip.
"It's interesting knowing what's going on in different parts of the world," said the Grade 7 student. "And it's good to learn from people who are from those places."
Mark Ogle said the hope is for the students to make a connection between the issues and those impacted by them.
The students also asked the girls about some of the biggest differences between their homeland and their new home.
"The weather," chipped in Hiba, with raised eyebrows and a broad smile. "You don't want to see me skate!"
Although it rarely snows in their particular area of Syria, her family has apparently adapted. Ward noted the site that greeted him upon arriving at her Lethbridge home after the very first snowfall the family experienced ­– a snow camel.
Jalila spoke about missing extended family back home and the difference between education systems. Option classes are not an option in Syria, she noted, and failing to complete your homework could earn you a rap across the hands with a rod.
While Canadian's love of bacon was puzzling to the girls – Muslims don't eat pork – the Picture Butte students realized their visitors are more similar than they thought. Hiba said they too appreciate the freedom and opportunities available in Canada, adding she'd like to return to Syria for a visit but realizes her future is here.
"Kids don't really see, like, they're so different," said Mack. "We just see that they're people too. They just came from somewhere else."
Ward urged the students to be critical of information they hear about others different from themselves. Most would gladly answer any questions others might have, rather than have them misinformed.
"Be respectful and be compassionate," he said. "The world would be so much better if we stopped judging each other."